DRIVEWAYS
Our diverse product range and installation knowledge means we have the ability to offer a variety of driveway solutions for all budgets.
We have a combination of the latest driveway systems available and traditional methods that mean we can cater to any driveway requirement. We will work with you to advise on the best solution for your requirements and explain the installation process.
Whether you are looking for a traditional, contemporary or futuristic finish, we have the designs and materials available to offer the perfect solution.
We can quote for:
Paving
Driveways
Patios
Fencing
Decking
Artificial Grass
Walling
Groundworks
Landscaping
Design Services
Vehicle Crossings
Additional features available as part of our Driveway installation:
Adding security posts; if you want more control over who can access your drive these are a simple and stylish solution. They can also help deter theft.
Introducing kerbs; ideal if you want a neater partition between your driveway and lawn or other areas.
Lighting can be incorporated in to the driveway and surrounding areas to highlight features and assist with visibility
We can bring bespoke design into even the smallest of driveways making each one unique and something different to the rest of the street.
We can also provide works to vehicle crossings and are fully affiliated with Essex Highways in order to offer a complete all in one service.
If you would like to find out more about our driveway products & services please get in touch.
Driveway drainage and regulations
In 2008 the laws surrounding paving your front garden changed and it is now required that you get planning permission before any such work takes place.
The main reason behind making planning permission a must have, is due to ensuring that water run off is considered and methods are considered to prevent flooding to public roads and neighbouring houses. However, the rules around planning permission are quite complex - it can be dependant on the materials you choose and the style of your home, for example if you live in a listed building you will definitely need planning permission. But if you don't live in a listed building and you choose certain materials for your driveway you can be exempt from needing permission.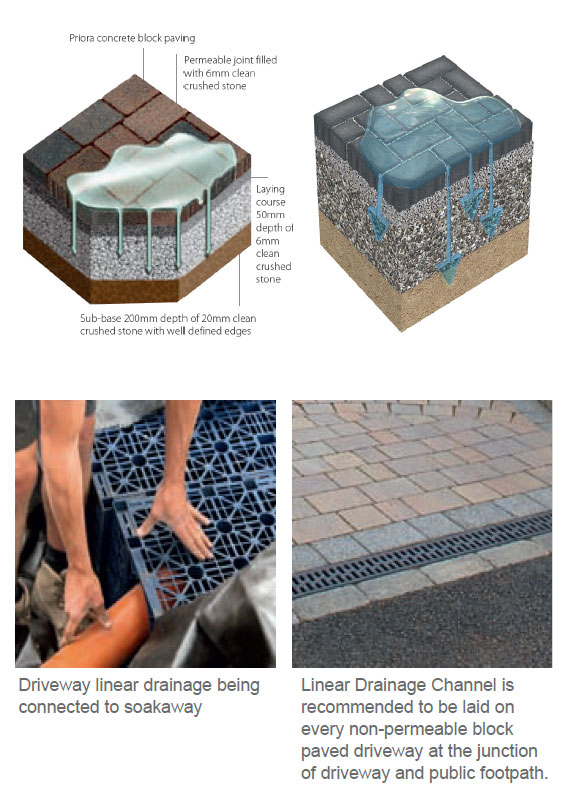 © Copyright 2017 m-promote (Intelligent Promotion Ltd) All rights reserved
Scroll